BanFire Flame Retardant Kit - $99 with Free Shipping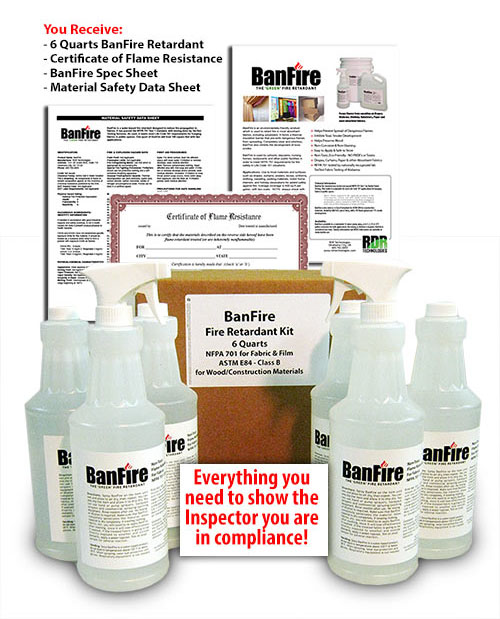 The BanFire Fire Retardant Kit is an easy, affordable way for facilities like yours to have everything on hand and ready to go, for one low cost.
Fire retardants are not sold in stores, so you need to be ready when the inspector comes knocking on your door. Our kit comes with all the paperwork you need to establish a 'paper trail' of documentation to keep you in compliance.
For most facilities, the problems come from the 'homey' touches that people bring in for decoration - custom-made curtains, posters, decorations, throw rugs, and the like. With our easy-to-use fire retardant kit, you will have enough on hand for several years!
For most items like curtains, just spray it on, let it dry, then repeat. In most cases, it will last until it is washed out, and then it will need to be retreated. For posters and other paper- or cloth-based artwork, lightly spray the back of the piece several times. You don't want to get it so wet that the fabric buckles or wrinkles, or damages the inks and colors on the front.
In most parts of the country, there are no special requirements or certifications required to apply the product - anybody can do it, but you need to keep records of when the items were treated and with what product. And we provide all that documentation for you. Just fill it out, and keep it in a file. We even have little cards that can be printed out on standard Avery business card templates that you can attach to the inside hems of curtains, or the backs of pictures.
Fire retardant sprays are a critical component of the safety plans for modern facilities, and RDR Technologies has now made it easier than ever to stay compliant with fire codes like NFPA Life Code 101.