Fire Retardant Supply.com
BanFire Fire Retardant Kit - $99 with FREE SHIPPING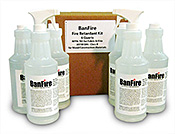 The BanFire Flame Retardant Kit is everything that most small facilities will need to keep compliance with fire codes like NFPA 701 and CA Title 19 Section 1237.1. Nursing homes, eldercare, day care centers, schools and other facilities that get regular inspections from the fire marshal will appreciate the documentation packet which contains all the information that the fire marshal requires.
Just $99 for six quarts of ready-to-use retardant, enough to treat 600 sq feet of fabric and other absorbent decorations. Plus, we'll give you FREE SHIPPING anywhere in the continental United States!
BanFire Flame Retardant Spray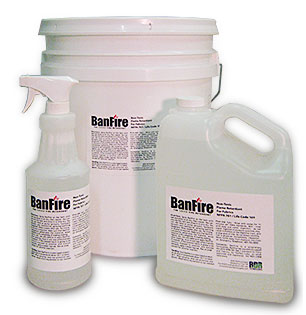 RDR Technologies has just introduced a remarkable new fire retardant spray for fabrics, BanFire. This easy-to-use non-toxic fire retardant simply sprays on fabrics to give unmatched flame resistance. Perfectly clear and non-staining, it has almost no odor. Meets NFPA 701 test for films and fabrics and Life Code 101 requirements for fabrics in public spaces. Approved for use in California. Quick and easy to use flame retardant for drapes, curtains, paper decorations, lamp shades, theater curtains, furniture, wall hangings and much more.
Click for more >>>

About Fire Retardants
Most people don't ever think about fire retardants until they receive a visit from their local Fire Marshal or Building Inspector, and they are told that something needs to be treated with a fire retardant.
Because fire retardants are not usually sold in retail stores, we have tried to bring the best fire retardant solutions on the market under one roof, and make them available to you. If you have any questions at all, just give me a call at 405-306-3062 and I'll do my best to steer you in the right direction, get you the right product for your application, and keep you in the good graces of the Fire Marshal. Now, what do you need to treat?