Fire Retardant for Christmas Trees & Wreaths
Tree Guard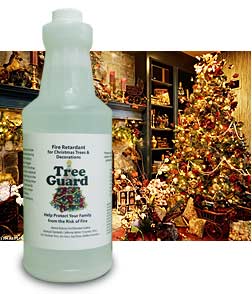 California Admin Title 19-12264 Christmas Tree Tested
Transparent, Odorless & Non-Toxic
Treats up to 8' tree
Just spray it on, and add the rest to the water!
Christmas is for enjoying family and friends, giving joy and happiness to your children, seeing smiles on children's faces, However, every year families lose everything due to Christmas tree fires.
Protect your family and home this year with Tree Guard flame retardant spray-on coating. It's water based, non-toxic, odorless, transparent and environmentally safe. It is non-halogenated, chlorine-free and easy to apply.
Tree Guard dramatically slows combustion by creating a protective barrier between the tree and fire source. When subjected to fire, sparks or embers (like from a fireplace or space heater), Tree Guard flame retardant spray protective barrier will activate against the threat and will not sustain combustion. Some products on the market state that your tree won't dry out, one product on the market is a latex base paint (Who wants to paint their Christmas tree green?) and you have to apply 2 coats. Tree Guard flame retardant spray is a one-coat, transparent, odorless, non toxic, environmentally safe, class A rated flame retardant spray.
One quart of Tree Guard flame retardant spray will treat a 7 1/2 - 8 foot tree. If you have fire retardant coating left over, pour it into the base and the tree will absorb it. When using water in the base of your tree use distilled water. You can treat all species of Christmas trees; Fir, Scotch Pine, Eastern Red Cedar, Fraser Fir, Noble Fir, White Spruce, Blue Spruce and many others. Flocked trees must be treated with Tree Guard FIRST.
Nothing will keep your tree from eventually drying out, but Tree Guard flame retardant spray will help to keep your tree greener longer, (2 to 3 weeks longer), although results may vary depending on the local atmosphere. Be sure to water your tree every day! Here's a video from UL that shows how quickly a dry, unprotected tree can go up in flames. A fire like this will quickly create what is know as 'flashover,' causing the entire room to be engulfed.
SAFETY: Keep cut Christmas trees away from open flames, heaters, candles and other source of fire, heat or sparks, check tree lights for missing or broken bulbs, keep plenty of water in the base (distilled water), make sure extension cords are not frayed or overloaded. Make sure candles are out before leaving, place candles on a stable surface and be sure to keep candles out of the reach of children and keep matches and lighters in a safe place. These are just a few things to remember. Please, have a safe and enjoyable holiday this year. Wildfires, Brush Fires, Grass Fires are all very destructive. Fire prevention and safety may prevent the destruction caused by these types of fires. Tree Guard flame retardant spray can be used on Spanish moss, Christmas trees, Garland, Wreaths, Hay, Straw, Wood Mulch and dried vegetation. You can apply Tree Guard flame retardant spray around grills, smokers, fire pits, fireworks stands and booths, barns, landscape beds, fence lines, camp fires, homes, sheds, tree line areas and well houses anywhere outside you may have the threat of fire. Preventing wildfires or brush fires starts with knowing where the fuel source areas are, give us a call for more information about fire safety and fire protection. Tree Guard flame retardant will not dry out the treated area; it will help to preserve it for future growth of trees and plants. Every year wildfires are the cause of lives and property loss now protect your family and home from wildfires. Fire Retardant Coatings and Fireproofing Wood Products are approved for WUI (Wildland Urban Interface) Regions. Call today for more information.